BSidesPDX - Down the Rabbit Hole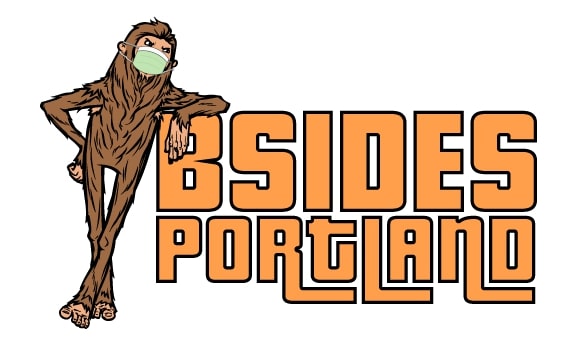 Prompt
Category: Over The Air
297 Points
5 Solves
During one of the commercial breaks of my favorite state sponsored educational video, there was some interference once again. There was a woman wearing some sort of face mask and there were strange tones. The tones were familiar and rang a bell, but I couldn't quite put my finger on them. I don't know what these things mean, but maybe you can figure it out.

Author(s): 0xdade & fdcarl
Solution
This challenge is where we really… umm… go down the rabbit hole, you could say ;). I started by playing the whole video and noting all the oddities that I could find, and started working them out one by one:
So, we eliminated or decoded one thing at a time, omitting the parts from previous challenges:
[05:53] : In the duck & cover / burt the turtle clip, there's a flag person in the bottom left that is sending text in the maritime flag signaling pattern.
The maritime / semaphore flag alphabet is documented, and I decoded the flag message to be two repetitions of:
J and 'alphabetic' (LH out ; RH up)
B and 2 (LH down; RH out)
S (LH low; RH out)
I and 9 (LH across low; RH up)
D and 4 (LH down; RH up – or LH up; RH down)
E and 5 (LH high; RH down)
S (LH low; RH out)
T (LH up; RH high)
R (LH out; RH out)
O (LH across high; RH out)
L (LH high; RH low)
O (LH across high; RH out)
L (LH high; RH low)
O (LH across high; RH out)
L (LH high; RH low)
O (LH across high; RH out)
To get result BSIDESTROLOLOLOL. Bummer, but at least we can cross off this lead for now.
[17:21] : Giant Behemoth: A message appears on the top of the screen.
The message on the top of the screen was decoded, as it was quickly identified to be the pigpen cipher.
not a flag either
[15:46] : In the announcement about the Secret Squadron, 0x13A5C is displayed, and a number is heard dialing in the background.
Now things get more interesting. We have the tones associated with dialing a phone number, and a message on screen. The message reads 0x13A5C, which is 80476 in decimal.
Decoding the phone dial presses is a matter of interpreting the DTMF tones. This requires first trimming the whole audio clip from the recording into a clip of just the phone dial tones. This .wav file can then be put into a dtmf decoder, and it returns a phone number: 5038326682.
For this next part, I'll rely on what my teammates described, as I cannot call that number. However, when called, the caller is asked for a number. When provided with 80476, the voice on the other end sounds out the following string of morse code:
-- ... --. -. ..- -- ....- .---- -.... ---.. ...--

When decoded, this turns into the string MSGNUM41683, which we initially did not know what to do with. 41683 is another 5-digit number, however, so let's just try calling 5038326682 back, and giving it our new number, shall we?
More progress! The number speaks back overtheair.space. This link redirects us to an unlisted YouTube video that contains more content similar to the twitch stream. In the middle of it, however, is a break, where loud beeping is heard that was instantly recognized to be SSTV. Now we need to decode that, and first that means downloading it…
Given the tragic closure of the youtube-dl repository caused by RIAA, we almost resorted to downloading the source code off twitter, and reconstituting the youtube-dl source code from that, however someone still had youtube-dl installed, and we successfully (allegedly, maybe) downloaded that video (see there is a good use for youtube-dl, RIAA).
With that in hand, we extracted and trimmed the audio to just the SSTV parts, and then came the fun part.
Following an extremely thorough guide about how to decode this very kind of file, from Carlos Delgado, we successfully set up qsstv, a virtual audio cable (loopback so that audio can be played from computer into qsstv), and we were off to the races:
I was a bit slow to start it the first time, so I got the second half first: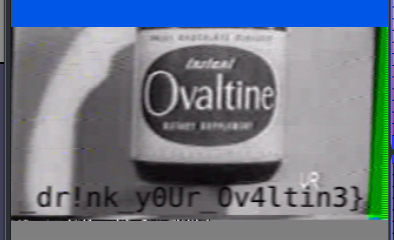 … and the second part on the second run:

BSidesPDX{b3_sUR3_T0_dr!nk_y0Ur_Ov4ltin3}

~Lyell